Long live the film photo booth
Photobooth.net founders Brian Meacham and Tim Garrett are helping keep the analog technology alive.
Embedded is your essential guide to what's good on the internet, written by Kate Lindsay and edited by Nick Catucci.
This week, I joined the Paesanos Podcast to talk about my Influencers In The Wild piece. Listen here! —Kate
Embedded is helping keep email alive.
---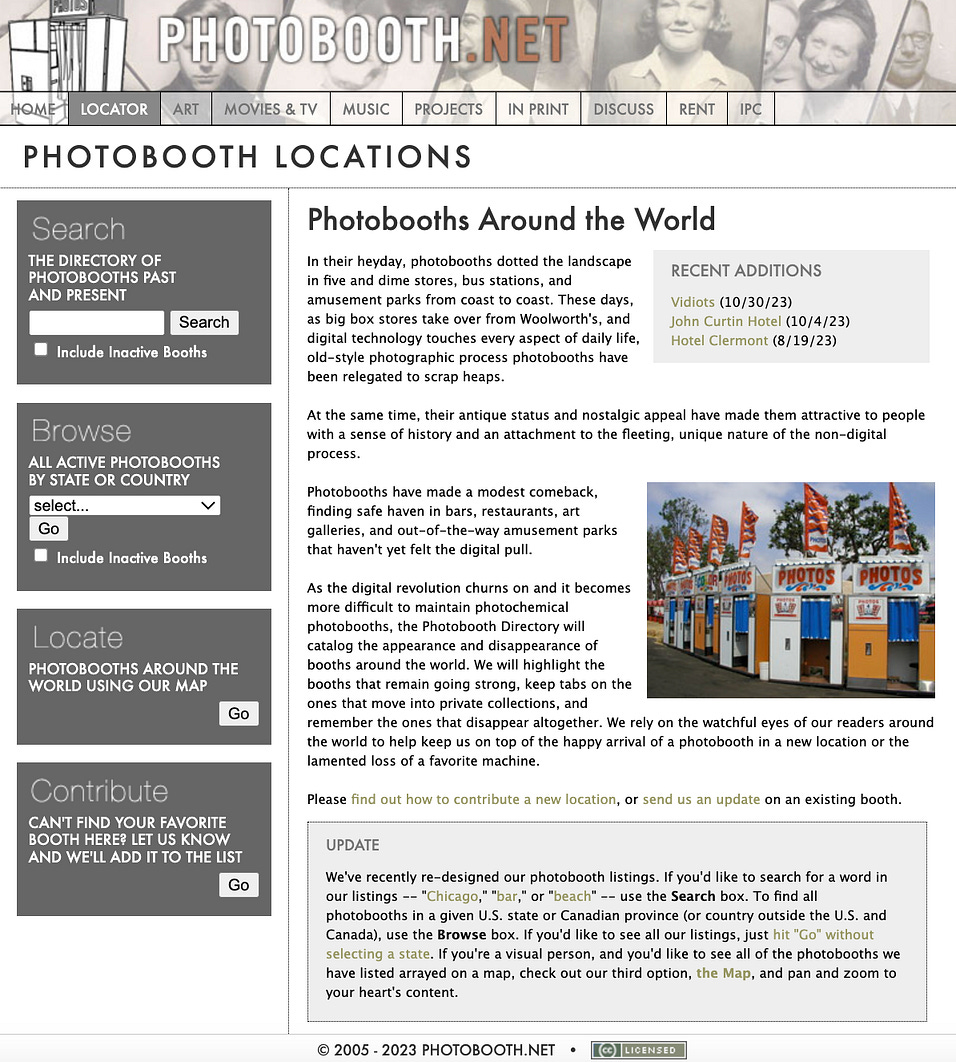 I had a simple vision for my fifth anniversary with my boyfriend. The first photo we took together was in a film photo booth, and I wanted to recreate it. We were on a celebratory trip to New Orleans when inspiration struck, so I Googled "New Orleans film photo booth." What popped up was a listing from a website called Photobooth.net, which, on first glance, looked like it hadn't been updated since about 2005. But it said a place called F&M Patio bar had a photo booth, and recent Google reviews confirmed it was still up and running. We stopped by on our way to dinner. The bar was closed. 
We returned back to New York shortly after, but my photo booth vision had turned into an obsession. Sure, there were plenty of digital photo booths in my area, but then we might as well take a picture on my phone. I wanted a film photo, the proper black-and-white kind, to match the souvenir we had taken years ago. One evening in the East Village, I opened up Photobooth.net again, wondering if any of its NYC listings were still accurate. It was then that I learned that Photobooth.net was not defunct, but had been dutifully updating its worldwide photo booth directory as recently as August. After losing a battle with a temperamental photo booth at Otto's Shrunken Head, we finally found success at The Folly. 
Photobooth.net is not an app. There are no ads. Co-founders Brian Meacham and Tim Garrett, like the rest of the community of photo booth enthusiasts, are in it for the love of the booth. 
Tim lives in St. Louis, Missouri, working as a software designer, developer, and artist. Brian lives further east, in New Haven, Connecticut, where he works as a film preservationist at Yale. They both grew up with a fascination with photo booths, and connected digitally in hopes of collaborating on a project. 
"Brian and I are both relics of an old internet," Tim joked when we got on Zoom. 
I explained why I was so interested in their work. "I think that's gonna go on my tombstone," Brian replied, quoting me back to myself. "'An OG, good, helpful, website creator.' There's no higher praise."
In my mind, this kind of pure, helpful website is even rarer in 2023 than the machines it's dedicated to. But it turns out the photo booth community is still so active, my pleas to interview Brian and Tim got lost among the many other emails in their inbox sharing booth updates and appearances in films and TV—another directory the site compiles. But we eventually connected, and in this conversation for paid subscribers, the three of us talk about the photo booth community, how war in Ukraine is threatening their existence, and why, in a world inundated with portable digital cameras, the film photo booth has endured.
Tell me how this website got started.
This post is for paid subscribers