The champion of the weird, old internet
Neal Agarwal has been making digital experiences online since he was nine years old.
Embedded is your essential guide to what's good on the internet, written by Kate Lindsay and edited by Nick Catucci.
Addictinggames.com still exists, by the way. —Kate
Subscribe to the second-best champion of the weird, old internet:
---
Neal Agarwal was nine years old when he made his first website. He describes it as a "tiny addictinggames.com," where he had curated a collection of his favorite Flash games, all in one place. Throughout his teenage years, he continued experimenting with HTML and other kinds of programming, and when he was 18 he began making a list of ideas for digital experiences he'd like to one day create. Seven years later, that list is 1,300 ideas long. 
"I knew I wanted to do something creative," Agarwal tells me over Zoom. "I tried painting, I tried music, I tried all the other creative outlets and none of them really connected with me. But then for some reason making weird stuff online was my go-to thing."
This "weird stuff online" includes projects like Ten Years Ago and Image2Emoji, which have earned features on Product Hunt and Mental Floss, and Agarwal a recent Insider profile. I'd come across Agarwal's work through popular games of his like Spend Bill Gates's Money and Draw A Perfect Circle. But it was his most recent creation, Internet Artifacts, that prompted me to finally reach out.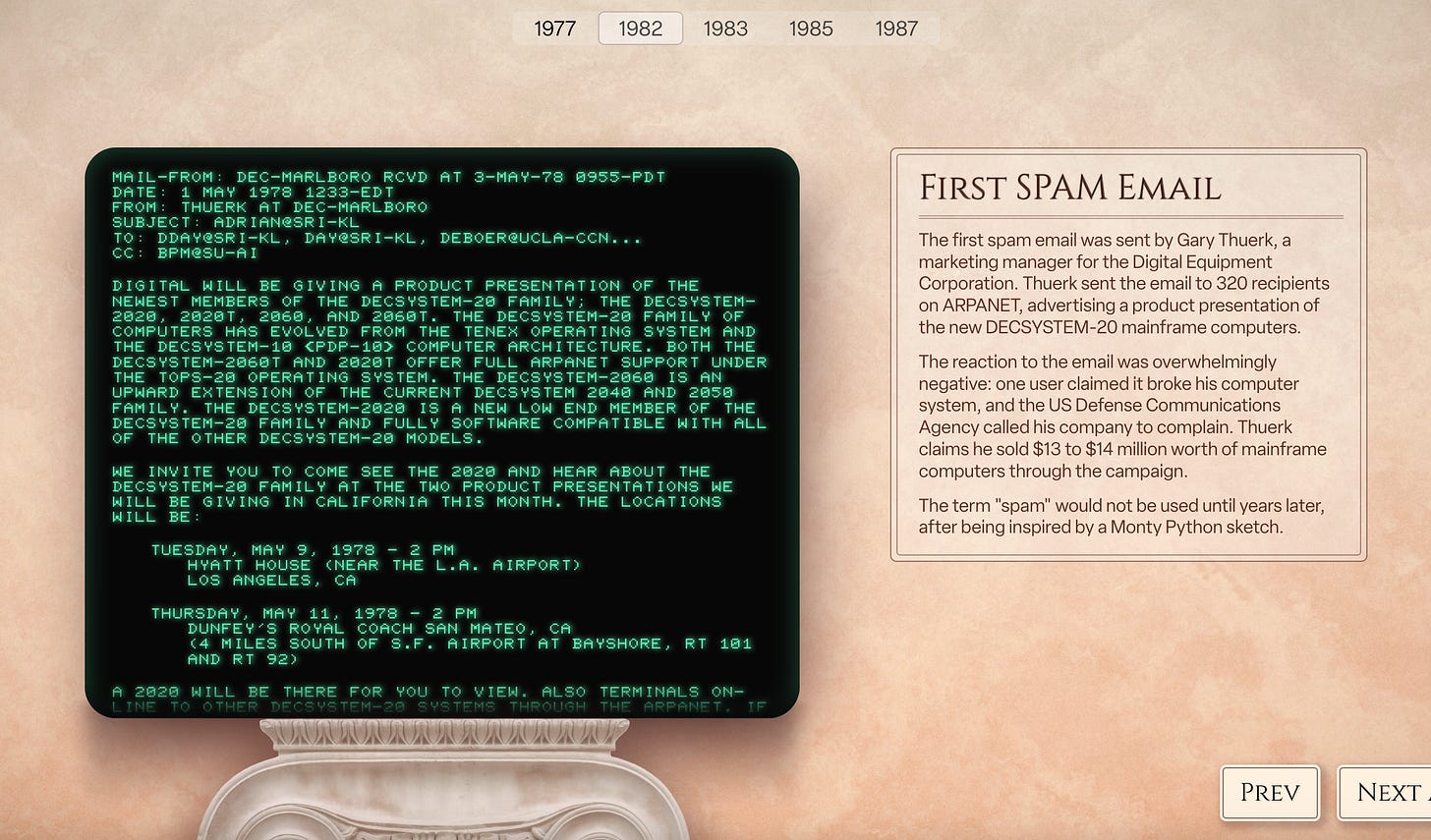 Agarwal's Internet Artifacts museum goes back to the beginning of the internet in 1977, recreating what early sites looked like and allowing you to scroll a 1983 webpage in a way that's otherwise impossible on the modern internet. It's extremely well-researched and fun. 
In this interview for paid subscribers, Agarwal and I chat about his history of digital projects, why it's important to him to keep the "wild west" feeling of the internet alive, and what he's working on next. 
This post is for paid subscribers